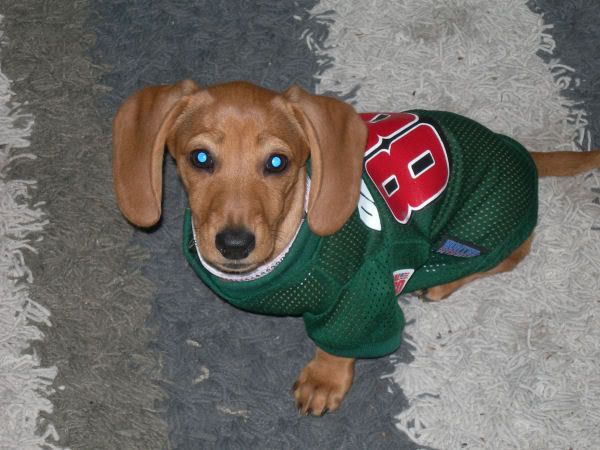 HI I am Susie Pearl!
My mom stumbled upon a few AWESOME Blogs by Dogs and realized I had to have one!
I had my half birthday on July 2nd....yep I'm 6 months old. I am the lifelong dream of my mom. Her grandparents always had a Susie and a Freddie. I am named for those Susies and her Grandma Pearl. I feel pretty special....cuz I am!
I share mom and daddy with my 3 cat siblings: Spot (the fat Orange cat) and Newman and Diva (they are Manx Cats that are brother and sister a year apart). I also share my parents with Big Harley Bear (he is shepherd and chow) and Dixie and Pookie the outside Pug/Rat Terriers.
See the awesome Dale Jr jersey I am wearing in the picture? Mom got that for me before I was even home. It doesn't fit me anymore...so mom retired it after I wore it the last time. It just happened to be the day Dale won his first race in the 88.
Mom says she is going to order a Ryan Newman jersey so I can show some love for daddys favorite driver. Ill ask her to post a pic of me in when it arrives.
Well, I think we need to get out of here...daddy said something abt going to visit Aunt Kellie. I love her! Toddles!

~Susie Pearl